Montowese Team Recognized For Efforts to Support Ukraine
NORTH HAVEN, C.T. — Montowese Health & Rehabilitation Center was recently gifted an appreciation plaque by Maidan United for their efforts in 2022 to raise money to support the war in Ukraine, which began in February 2022.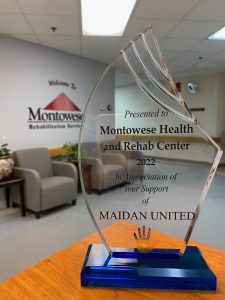 The therapy team at Montowese raised $2,200 to purchase lifesaving medical supplies, food, and other necessities for the people in the European country. Maidan United said the money helped purchase 73 tourniquets. Every Tuesday and Wednesday in April of 2022, the team held bake sales with items donated by staff, families, and residents. The center began raising money because of a Physical Therapist at the time who was from Ukraine and had been involved with Maidan United for many years. The team at Montowese felt the desire to help the Ukrainian people during the humanitarian crisis in their country.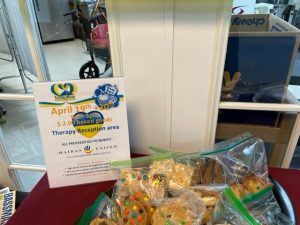 "Especially as health care workers, we felt very connected to this mission," Montowese Occupational Therapist Meredith Ballard wrote. "That along with our connection to the organization through our coworker developed into the idea to raise money through bake sales."
Maidan United is a Hartford-based non-profit organization founded in 2014 when Russia invaded Ukraine. Since its organization, the organization has collected more than half a million dollars in donations to help Ukrainian civilians impacted by the war.
Follow Athena Health Care Systems on Twitter and Facebook & Montowese Health & Rehabilitation Center on Facebook. Interested in a career with Athena? Click here!
MORE FROM ATHENA